About Me
British Landscape Artist Diane Griffiths
From Life, Memory and Imagination...
I look for new ways to represent the familiar; using life, memory and imagination to combine identifiable elements and creative mark-making to conjure up something new. Working in a mixed media of acrylic, oil and enamel, using brushes as well as less obvious tools in order to push the boundaries of applying paint.
At the moment I'm developing two themes; the first 'Summer Beachscapes' which explores holiday memories; inspired by where I live in Cornwall and childhood memories of busy beaches in the height of summer, I aim to capture that holiday feeling on canvas.
The second is called 'The Colour of Night' exploring how natural and man-made light can transform a landscape; Dialling up colours normally unusual to that landscape, taking advantage of light and shadow to create something magical.
I want people to surround themselves with things that make them smile, believing that involves tapping into memorable experiences as well as discovering something new. When I paint;
nothing is completely observed and nothing is completely imagined. Between the two I aim to get the sense and the detail, and between the two, I look to introduce art into people's everyday lives by creating a story out of a moment.
"Surround yourself with things that make you smile!"
 Artist Bio
Self-taught and hailing from the Midlands, after over a decade working in London I moved to Newquay six years ago. Working part-time as an artist I have work on display in Cornish galleries and shops, as well as online. On the committee of the Newquay Society of Artists, I've also contributed to two charitable projects for Cornwall Hospice and Bude Sea Pool, and successfully won and been a finalist in national and global competitions entered within the last two years.
Timeline
2023 - Artwork on sale at Pencarrow House, near Bodmin and Heather Jane & Co, Fowey shops. Porthleven Harbour Art Prize - Commended.

2022 - Charity Milk Churn at Bude Tourist Information and then auctioned at Truro Cathedral and purchased by The Headland Hotel. Bude Sea Pool Art Extravaganza - 'Spot the Artist' Postcard Exhibition. Artwork on sale at Sloth Studios Newquay, group exhibitions in Newquay and Padstow, craft fairs in Newquay and Perranporth. Tag Art Launch - Art Gallery at Tag London Offices.

2021 - Overall winner in the L2F Art Competition, winning painting exhibited at the Samuel Johnson Birthplace Museum in Lichfield. Exhibited as one of the 24 finalists in the 'Seasons' Art Competition, curated by The Artist Lounge and exhibited at King House Gallery, Stratford. Artwork on sale at Colour and Space gallery based in Perranporth.

2020 - Artwork on sale at Newquay Central Post Office. Publicity Officer Committee member of the Newquay Society of Artists, maintain website and Facebook. Artwork on display at Esplanade Hotel, Newquay.

2019 - Several group (NSA and Art8) exhibitions and craft fairs in Newquay, Truro and Padstow, featured in MyCornwall magazine and Art Guide. Guest blog on Empty Easel and Painters Online.

2018 - Editor's pick for two Artists and Illustrators competitions, Artwork featured on the front of Artists and Illustrators Magazine Calendar and Whistlefish products. Art8 Newquay Exhibition.

Porthleven Harbour Art Prize - Commended
'Our Treasured Vista' was 'Commended' at the Porthleven Harbour Art Prize 2023; theme 'Porthleven and its environment'. Exhibition May 2023 at Breagside Net Loft Gallery, Porthleven.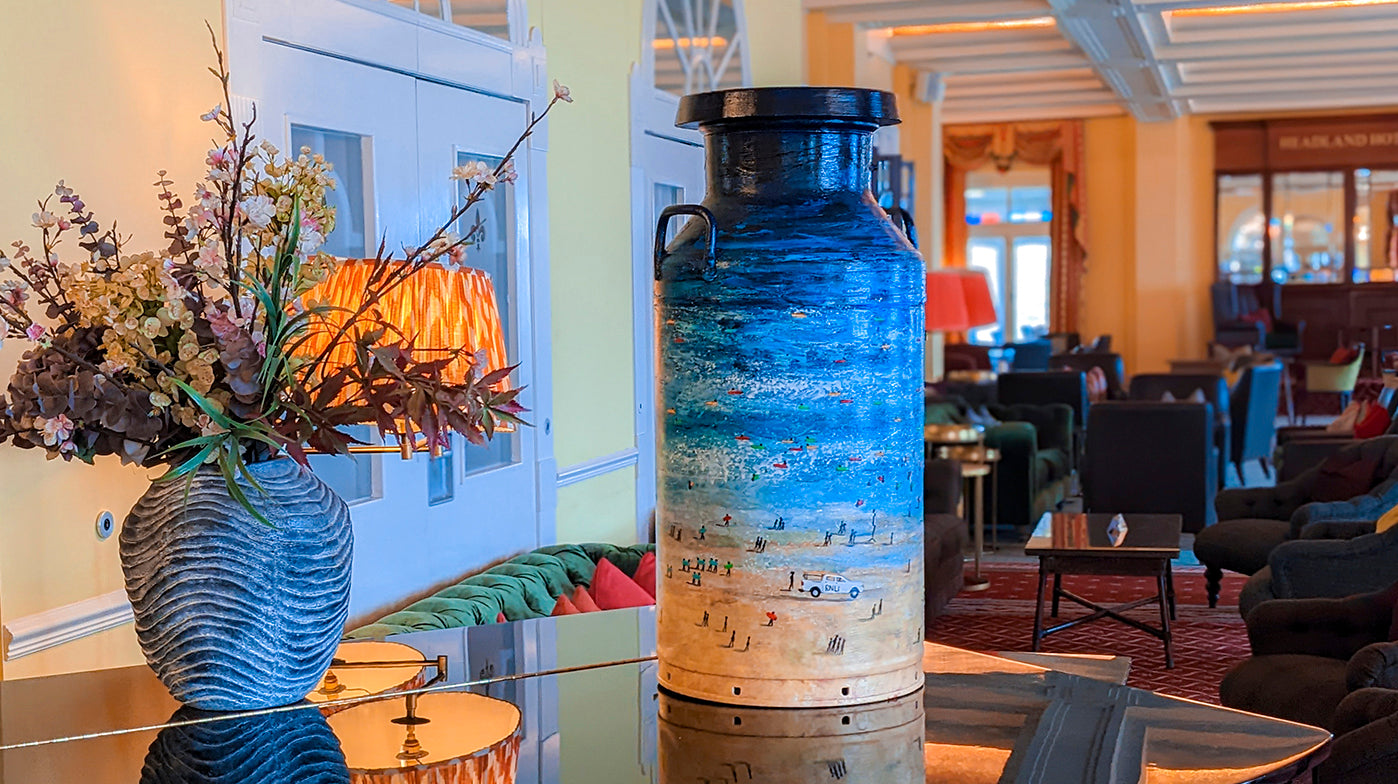 Charity Churn gets Forever Home
My Beachscape churn part of 'Around Cornwall in 38 Churns' project, auctioned at Truro Cathedral and purchased by The Headland Hotel.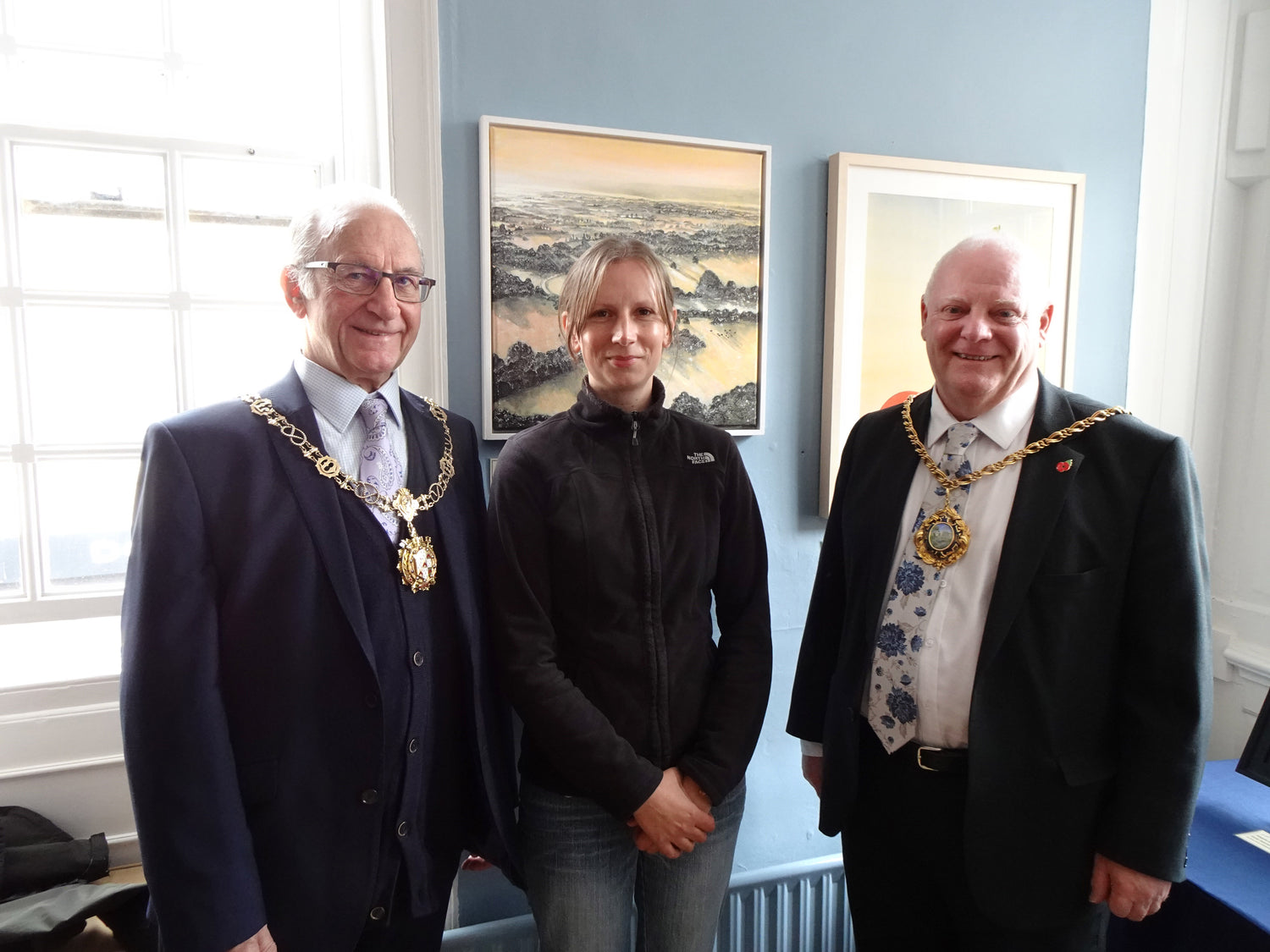 Lichfield Festival Competition Winner 2021
Art Competition winner. 'Early One Morning' on exhibition in the Samuel Johnson Birthplace Museum over the weekend 23rd-26th October 2021.
Finalist in 'Seasons' Competition 2021
Beachscape painting exhibited at the King House Gallery in Stratford-Upon-Avon as part of 25 finalists in 'Seasons' competition.
'The Stork' featured on Artists & Illustrators 2018 Calendar
The December 2017 issue of Artists & Illustrators came with a 2018 calendar, and I'm proud to say that my painting of 'The Stork' was on the front cover!